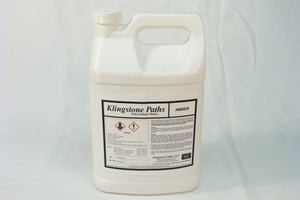 Klingstone Path Amber Patented - 1 Gallon Container - Gravel Binder
Regular price $94.00 Sale

Construct a lasting pathway with a One gallon Klingstone Path, our premier pathway stabilizer!
One gallon of gravel stabilizer from Howell Pathways covers 10-12 square feet.

The only polyurethane sealer that is both water permeable and ADA compliant.

Designed for use on garden paths, patios, driveways, and more.

Easy to prepare and install.

Amber color provides a quality finish
One gallon of Klingstone Paths is a great way to test an area to make sure it looks and works the way you want it to work. This will cover 12 square feet for paths, patios, or any foot traffic area. One gallon of our pathway stabilizer will also cover 10 square feet for driveway surfaces.  It is critical your area is dry and the gravel is clean to get the best-looking and longest-lasting surface. With Howell Pathways, you can create surface protection to defend from heavy foot traffic, continual rain and erosion, and create pathway compliance.
One gallon of polyurethane binder

Application accessories available

Combing with Bender Boards for added quality