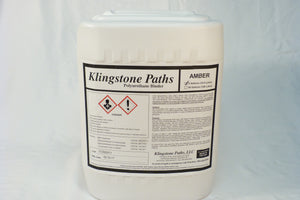 Klingstone Paths Amber Patented - 5 Gallon Container - Gravel Binder
Regular price $370.00 Sale
Klingstone Paths Five Gallon - Amber - Protect Your Project With Howell Pathways
Pathway stabilizer delivers lasting protection against heavy foot traffic and erosion.

Designed to be both water permeable and ADA compliant.

Comes in an amber finish for beautiful aesthetic improvements.

Proven results on historic sites, universities, airports, and more.

Ideal DIY product for paths, patios, driveways, firepits, kennels, greenhouse flooring, and more!
Howell Pathways is proud to serve as your authorized retailer of Klingstone Paths, our polyurethane sealer designed to get the job done right. This product was utilized on historic sites such as Colonial Williamsburg, Thomas Jefferson, and James Madison. After years of use, our gravel stabilizers are still holding strong. Our patented process is both affordable and easy-to-install on your own. Simply pour the stabilizer on a prepared surface via a water can or applicator pump and wand and let cure. Check out our gallery to see our pathway binder in action, and be sure to add on products such as our Bender Boards to create the best results for your landscaping project!
Includes 5 gallons (18.9 liters) of Amber polyurethane binder

Wand attachment available for cost-effective installation