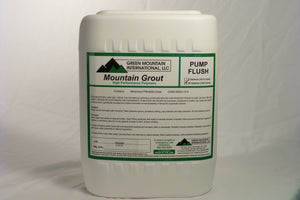 Mountain Grout - Pump Flush
Regular price $255.00 Sale
5 Gallon Pump Flush 
Keep your pumping system safe from moisture with Mountain Grout Pump Flush.
Non-flammable maintenance fluid intended for before/after use of pumps.

Material coats and protects components from moisture.

Mountain Grout Pump Flush is non-hazardous, non-corrosive, and free from volatile solvents.

Can be left in the pump during storage.
If you plan on applying a lot of Klingstone Paths through our applicator pump and wand system, then it's a good idea to invest in a cleaning solvent to ensure that your equipment is free from corrosion or premature breakdown. Howell Pathways proudly offers Mountain Grout Pump Flush in five gallons to give you lasting peace of mind. Buy today for a cost-effective price on your pump cleaner, and be sure to contact us if you need help with enhancing your project!
Includes one 5-gallon pail

Contains Dinonyl phthalate linear